Data alone is not valuable. Additionally, poor quality, incomplete, unstructured, unformatted data is not only not valuable, but it's also a burden!  
There is so much in the news and media about the big data companies (Google, Amazon, IBM) and how their data assets are worth billions. But how can other industries, like construction, start to generate and value this vital asset? And why is data so valuable in the first place?  
Where does data's value come from? 
Data is valuable when you can use it to inform an action taken in the physical world that saves money or generates returns (e.g time or resource savings, carbon reductions, social value, etc.).
Vitally this requires someone to actually look at and use this data and take action from it for that data to actually generate any value. To illustrate – Facebook's data only became valuable when someone used it to sell more T-shirts or influence political decisions.  
But before we can use data to inform valuable activities we must first be sure that the data is of a good enough quality to tell us something useful. 
Make your data count  
We have tons of data in construction, but in most cases is it still unstructured and incomplete. This makes deriving any value from it incredibly difficult and costly. To even begin to get value from your data you need to focus on collecting it in a way that can consistently provide complete, structured, and accessible data (not across a mix of paper, excel, BIM models, and so on…). 
Once you have this data in a clean and accessible format, you can begin to analyse it and identify trends or patterns that can drive you to action.  
Although data analysis can be carried out by our computing companions, it ultimately requires a human to sit down and consider what action should be taken off the back of these insights. By eliminating the boring and error-prone process of data entry, we can free up our teams to act and get value from this data. 
Currently, in construction, it is the human that must introduce the 'story' that provides the vital context and can interpret the visually presented data and take action. In the near future, with more integrated systems, we will be able to provide more digital context – combining data collected from IoT, computer vision, and other systems to provide a rich picture of a construction site. But the action that can be taken today is simple; Collect your data in a clean and accessible way, analyse it, and dedicate that time save on data capture, to using that data to get real business value.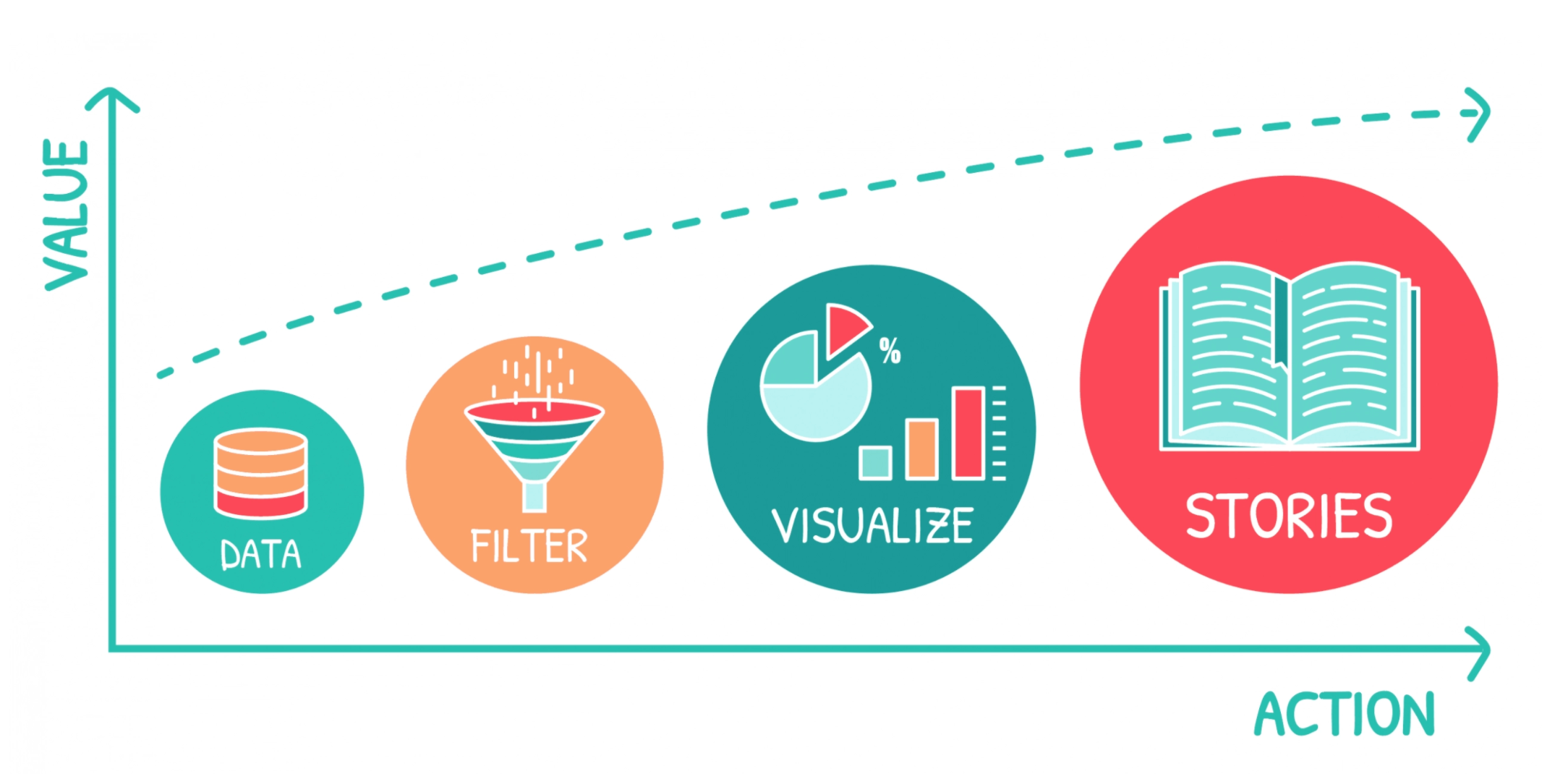 Where can construction start?
Accurate data regardless of what industry you are in will help you review current processes and give you an indication of what exactly needs to be changed or improved to drive success long-term. Historically, it has been a challenge for the construction industry to record data on-site and that is due to the nature of a construction project and hence there is often not enough good quality data to go hand in hand with decision making.   
Tools like Qflow can be deployed instantly, without the need to change your existing workflows or the installation of hardware. They provide real-time data on construction activities such as material deliveries and waste transfers, in a clean and structured format that can be securely accessed anywhere via a cloud platform. 
These tools have been specifically designed for construction so that they are user-friendly and quick to deploy on site with minimal training.  
What next? 
It's important to note that the data captured in these systems can be valuable across multiple project disciplines. For example Material Delivery notes are needed by Cost Control teams to verify invoices, they are also needed by Sustainability Teams to report on Carbon and responsible sourcing certifications, and by Quality Control teams to ensure the materials to be installed on site meet the designed safety and performance standards. 
It is easy to exponentially increase the value of your data by making it available across multiple teams and collaborating to explore where there are further gaps that need plugging.  
In summary  
Data only has the potential to be valuable when it is of a high quality (complete, structured, and consistent) and is accessible. This data only becomes valuable when it is used to inform action in the real world.  
To find out how Qflow can support your project in capturing high quality, accessible data for valuable decision making, reach out to our team below.