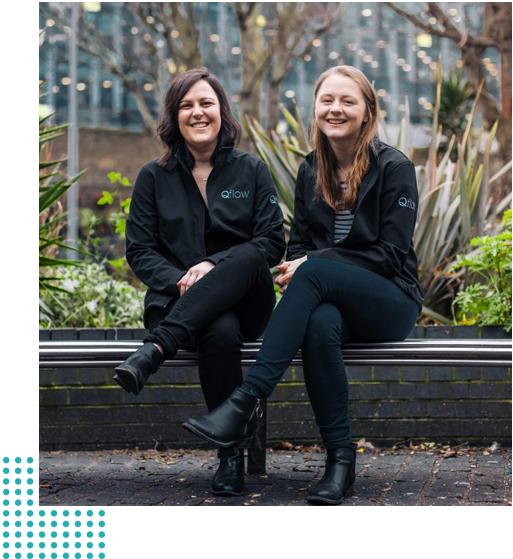 We founded Qflow in May 2018 with the sole purpose of leaving the world in a better place than we found it. We have a vision of a construction industry that uses only the resources it needs in the most efficient way possible – delivering a built environment that meets the needs of society without compromising future generations.
With that we are on a mission to become the market leading system for UK construction projects to capture and harness material and waste data on live sites.
We do this by working with construction teams to enable them to track and manage their social and environmental impact, and take a data driven approach to improving that! Our goals are to build an automated data collection/aggregation platform for construction projects, create the industry's most comprehensive dataset on the socio-environmental impacts of construction activities, and utilize digital technology to eliminate the need for on-site environmental teams.

Jade Cohen
Co-founder & CPO
Stefan Ross
CTO
Mohammad Daudi
Head of Sales

Brittany Harris
Co-founder & CEO
Jasmine Snook
Data Analyst
Shenel Unal
Head of Operations
Carlos Azevedo
Senior Software Engineer
Bob Salmon
Senior Software Engineer
Charlotte C.
Digitisation Project Coordinator
Christiana C.
Software Engineer
Joe Butterworth
Business Development Manager
Rezwana Uddin
Marketing Executive
Andrew Norton
Data Analyst
Imran Yousafzai
Finance Controller
Akvile V.
Software Engineer
Freya Williams
Data Analyst
Meave Park
Data Analyst
Laura Button
Data Analyst
Jaspreet Kaur
Data Analyst
Louise Kane
Data Analyst
Bobby Hogarty
Customer Success Manager
Laura Hoskison
Data Analyst
Serena Ward
Customer Success Manager

Radical transparency
Whether a young startup or a flourishing corporation, collaboration is central to building a successful product and organization. This is an essential building block for us and we strive for daily collaboration across the industry to come up with the best solutions.
"If you want to go fast, go at it alone. If you want to go far, go at it together"
Get your sustainability score today
Take our 2 minute quiz and we'll send you a free report showing your sustainability readiness